As George Orwell said, "Every generation imagines itself to be more intelligent than the one that went before it, and wiser than the one that comes after it." Are the differences between generations that important? If you answer the question – who are your candidates (which generation they belong to) – it will give you many tips on how to effectively recruit them.
In short, the division is as follows:
Baby boomers – people born as a result of the postwar demographic boom, i.e. at the age of 55+. Wok is for them a sense of stability and a success indicator. They are loyal employees and often work for many years in one place.
Generation X – children of the above group. The "X" in the name shows the unknown, that is, the turbulent and full of changes times when they had to gain their first professional experience and develop their careers. Compliant, orderly and responsible traditionalists for whom a salary allowing them to live in dignity is a guarantee of a sense of security. The most numerous group on the labor market.
Generation Y (millennials) – born in the 1980s and early 1990s, new technologies are an integral part of their lives. They spend a lot of time taking care of their passions and hobbies. They like to emphasize their individuality.
Generation Z (post millennials) – have never been offline, they are just starting their professional careers. They are great in the virtual world and there are no limits to them. Their forte is multitasking. Creative, but often loners.
Here you can find a nice comparison of all generations:
This is also a nice overview: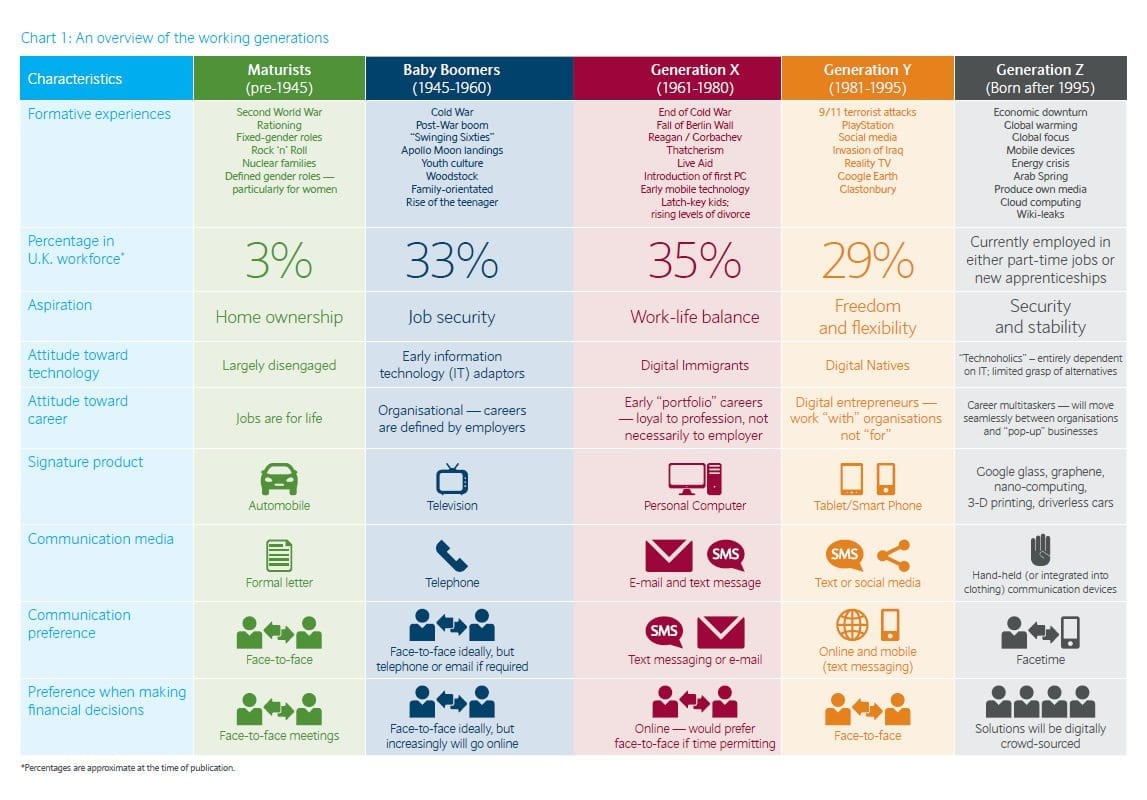 BABY BOOMERS
HOW TO REACH THEM?
Press advertising may seem passé, but baby boomers are traditionalists. They prefer offline ways of communication, especially on paper.
Internal recommendations can also be helpful. In the past, you didn't get a job, there were people helping you to get one. Therefore, they willingly recommend others and are recommended.
How to conduct the recruitment process?
You do not have to worry that baby boomers will come to an interview in a tracksuit, will be late, will not come, or will not answer the phone. Remember that this respect should work both ways.
If possible, invite an employee for an interview who in case of employment will be their immediate supervisor. In this way, you can check if they are on the same page.
How to create encouraging job offer?
Baby boomers look for stability and security – information about an employment contract for an unfixed term will be important to them. More important than "good atmosphere in the team". Due to the fact that baby boomers often work for many years in one place, also a note about promotion opportunities in the company's structures will be a relevant point for them. A large number of duties listed in a job offer will not deter them from applying – they are ready and used to work hard.
What should communication look like?
Elegant and formal. Call them, don't write. Being 24h online is not their cup of tea. They prefer direct conversation with another person. They carefully decide when it comes to changing jobs, so give them time to think about the offer and recalculate it. Do not push them.
Is baby boomers recruitment new to you? Get used to it because the "silver tsunami" is just starting.
X GENERATION
HOW TO REACH THEM?
They are great at interpersonal relationships, so you can go ahead and look for them at conferences and fairs. In their case, Open House recruitment may also work. Don't wait for them to apply, rather focus on direct search.
For them, working in a "decent" company is a determinant of success, so if you take care of employer branding, you will certainly earn respect in their eyes. As with baby boomers, internal recommendations will work.
How to conduct the recruitment process?
Methodically and accurately. They are not hotheads. Invite them to your office, treat them with style and let them show you their (usually) impressive experience. Keep your word when it comes to contact and feedback.
How to create an encouraging job offer?
It is important for them to represent a brand or product which they can identify with – so be sure to include in your job offer the mission and values that your company represents. You will get the second plus for giving the offered remuneration.
They value work-life balance, so add a link to the Career or Team page where they can see that "there is life after work" in your company.
What should communication look like?
Like baby boomers, they prefer a phone call to an email. The lack of feedback for them means a lack of respect for other people. They value honesty.
GENERATION Y (millennials)
Work-related portals, social media – everything online.
How to conduct the recruitment process?
Millennials expect short and efficient process.
In their case, gamification works great as they are raised on computer games. A playful process makes them less stressed and their determination and sense of competition soar.
How to create an encouraging job offer?
They like technological innovations, so if they can count on a new MacBook as their basic working tool and on a modern office – it is worth mentioning.
More than a contract of employment, they will be interested in the possibility of working as self-employed which gives them a sense of freedom, independence and "being on their own". The great working atmosphere, the guarantee of new challenges, and the fact that each day will be different are also important. But only saying "great working atmosphere" will not convince them, be sure that they will take a look at the company's Instagram and ask among their friends to see what it actually looks like.
They will resign from the application if they find information about the dress code in a job offer.
What should communication look like?
They will not feel disgusted with emoticons in emails or propose to use their names, it will be even natural for them (social media usually do not use the phrases "Mr." or "Mrs."). When they write to you, they expect a prompt reply. Even when they write at 10 pm. They will also feel comfortable writing to you on Facebook, while the previous groups separate their private and work life more.
GENERATION Z (post-millennials)
HOW TO REACH THEM?
Recruiting on Instagram, Snapchat, and even Tinder? No holds barred.
Speed recruitment can be an effective solution for people who value their free time just like them (i.e. recruitment meetings in the formula taken from speed dating).
How to conduct the recruitment process?
They can be recruited entirely online – they will even feel more comfortable talking to you on Skype than meeting you face to face.
How to create an encouraging job offer?
You can shorten the description of the company to the necessary minimum. They are more interested in the scope of responsibilities that must meet their expectations. When describing a position, you also do not need to write essays – try to use keywords that will reach people used to hashtags.
The application must be quick and simple. Necessarily available on mobile devices (phone, tablet). Ask for a link to your Linkedin profile rather than their CV.
What should communication look like?
You can feel comfortable and communicate through social media, rather than by email or phone. Be careful with personalized feedback, because they don't take criticism well.
If they stop responding to your messages, you've just been a victim of ghosting. Reluctance to engage in difficult conversations (including refusal) causes that sometimes they just prefer to disappear. Just let it go then.
This article is my personal conclusion based on the characteristics of each generation and conversations with recruiters who are willing to share their insights and experiences. I am aware that these groups may be heterogeneous and that some applicants may have the characteristics of two conflicting generations. For example, although I am a Millennial by age, after reading the detailed characteristics of each generation, I believe that I am a typical textbook example of a generation X worker. Age does not have to be the only determinant and the characteristics of individual generations may interpenetrate.
Maybe I missed something after all? I am also eager to learn the opinions of recruiters who deal with the entire cross-section of the generation of candidates in their daily work and have the best comparison. How to do this to find a golden mean that will appeal to all generations? 🙂
Written by Anna Sykut, Chief Evangelist in Traffit in cooperation and with invaluable help of Anika Osmólska.